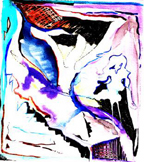 meanderings


brain winds scatter a million poems

i touch you & you widen horizon bloom & swim lightly

i hear bushes rustle & i will you to emerge with eyes bright & dripping love

i exhale smoke close my eyes curse addictions & smile thinking of gray misty ribbons dancing skywards in

sunlight only to vanish & leave fragrance rising from your pillow

i breathe deeply

i search for something meaningful digging in my mind's pockets for some poetic fuzz to glue down with my ink

i feel clean & generous do not know the meaning of greed protect me from it

ramble ramble rush hush i moisten with my own voice whispering kisses

i step into the worn slip of longing soooo easily my favorite piece of lingerie come hither & wrap your

limbs around me don't i look helpless

i will go to sleep soon & twilightdream about you reminisce over fleeting passion moments rising &

vanishing like smoke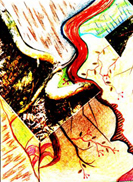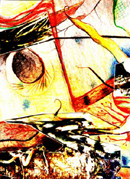 fragile
young man with sober mind
lay your head in my lap
close your cautious eyes
breathe softly & deeply;
i will stroke your hair.
lay your head on my chest
young lover of logic
do not think but quietly be
listen to my heart which
chants love to you;
i will kiss your brow.
young man firmly planted
think of how you were born
crying for consolation
spread widely your arms
your eggshell heart;
i will not break you.

hole
with my journal
spread upon my lap,
i watched him
painting cross-legged
as i sat crookedly
on his second-hand couch.
i saw his white underwear
peeking over the waistband
of his paint splattered jeans;
they were thin well worn & washed
with a hole torn under the elastic band.
i wanted to write
about the love pain
in my chest & the growing tumor
of frustration in my gut,
about the narcotic
beauty of his home
& the stifled desire
to pull him inside me,
about the desperate longing
to exist beside him every day,
& to hear him breathe
beside me every night.
but i couldn't write.
all i could think about
was that melancholy hole
in his underwear
he didn't know i could see.
i can still see it
when i close my eyes.
Five Haikus for a Sex Toy
1.
Ebony compass,
a tool of discovery
for uncharted lands.
2.
With holy rapture,
my shadowy appendage
reaches toward heaven.
3.
Midnight obelisk,
I kneel before you praying
for a little death.
4.
Pointy headed sage
in silent meditation
reveals dark wisdom.
5.
Swarthy plastic knight,
in my hand, it is a sword
to ward off boredom.
helium head
visceral explosion
cells regurgitating oxygen
i can't breathe
acid brew in stomach
boiling & bubbling
numb brain stuck in neutral
i... i... i... i...
struggling demons & angels
fighting over this mortal's
eyes,
mouth,
hands,
toes trembling
ears sweating
eyelashes twitching
with anticipation
heart bursting on fire
please, a glass of water
someone release this pressure
YOU
pin-prick my head
mmm... that feels better.
The Bibliophile
He finds her
like a discarded book
in a pile of dusty novels . . .
used, well-worn by readers
through misuse & love;
her papery skin is bruised & torn,
dog-eared with memories
She's weary of living
among forgotten tales
of love, betrayal, & loneliness
She's a story
without an ending;
someone has neglected
to complete those last pages.
Is this discoverer,
lover of literature
a writer as well?
un/intentional discoveries
she has been found again
(or she would like to believe)
like a treasure map in a fateful flask
floating hopefully on waves of purpose.
she happens upon shores of men.
does she have an invisible compass
buried somewhere in the glass
of her diamond heart?
perhaps she chooses this ground
with guidance from a divine hand.
what purpose is there
in this discovery of her/them/him
and the trading of goods between?
a mortal hand fishes her from water
un/aware of the treasure inside.
the contents of this medicine bottle
will change him/her whose
mystic chemicals metamorphose
with touch like the litmus paper
of the treasure map.
his hand leaves fingerprints
pressed into pulpy skin.
the paper appears weathered thin
but amazingly resilient to touch.
so many hands have not yet
shredded her with exploration.
many lines & routes have yet
to be discovered fortunately
for she who lives in the flask,
a genie of tenderness
who is un/aware of her magic.
Diptych:

The Rain
For a fortnight now, I have withstood the rain
inside a fortress of unfeeling clouds.
My love, the capricious Sun, is to blame
for leaving me thus, wrapped in a moist shroud
of despair and fear of this endless storm.
Sun, have you forgotten me, your flower
whose open petals praise your face and form?
My sadistic Sun who wields his power
over his lover, who starves and leaves her
to languish in mud and desperate prayer--
he frolics behind his misty armor,
shines on other flowers, fragile and fair!
My heart, my love, I curse you! With this resolve,
into the earth, I retreat and dissolve...
The Heat
But lo! What sharp light cleaves the canopy?
My love comes in a blazing chariot
to imbue my bloom with his white beauty,
to forgive me for my doubtful spirit.
Here, love! I part my petals and welcome you,
a famished flower starved for radiance
and for celestial love born anew.
My stem quakes with the weight of your brilliance;
my leaves, in your arms, start to wither and dry.
Generous Sun, I am fatted and full.
You may turn away your fiery eye.
...For a fortnight now, there has been no lull
in your rapacious heat and red desire.
Once, I would have drowned--now it's death by fire!